Domain Expert on Machine Learning
Topics Covered
1.Getting Started with R-Programming language
2.Mathematics for machine learning
3.Data Preprocessing in R.
1.Simple linear Regression..
2.Multiple linear Regression.
3.Polynomial Regression.
4.Support Vector Regression..
5.Decision tree Regression..
6.Random Forest Regression.
7.Evaluating Regression models performance:R-squared
Logistic Regression.
K nearest neighbours.
Support Vector machine.
Kernel SVM
Naive Bayes
Decision tree Classification.
Random Forest Classification.
Evaluating Classification models performance:Confusion Matrix
Kmeans clustering.
Hierarchical clustering.
Principal Component Analysis.
Linear Dimensionality Analysis.
Kernel PCA
k-Fold Cross Validation
Grid Search
Certificate is generated for every course individually
Certificate will generate only after successful completion of the course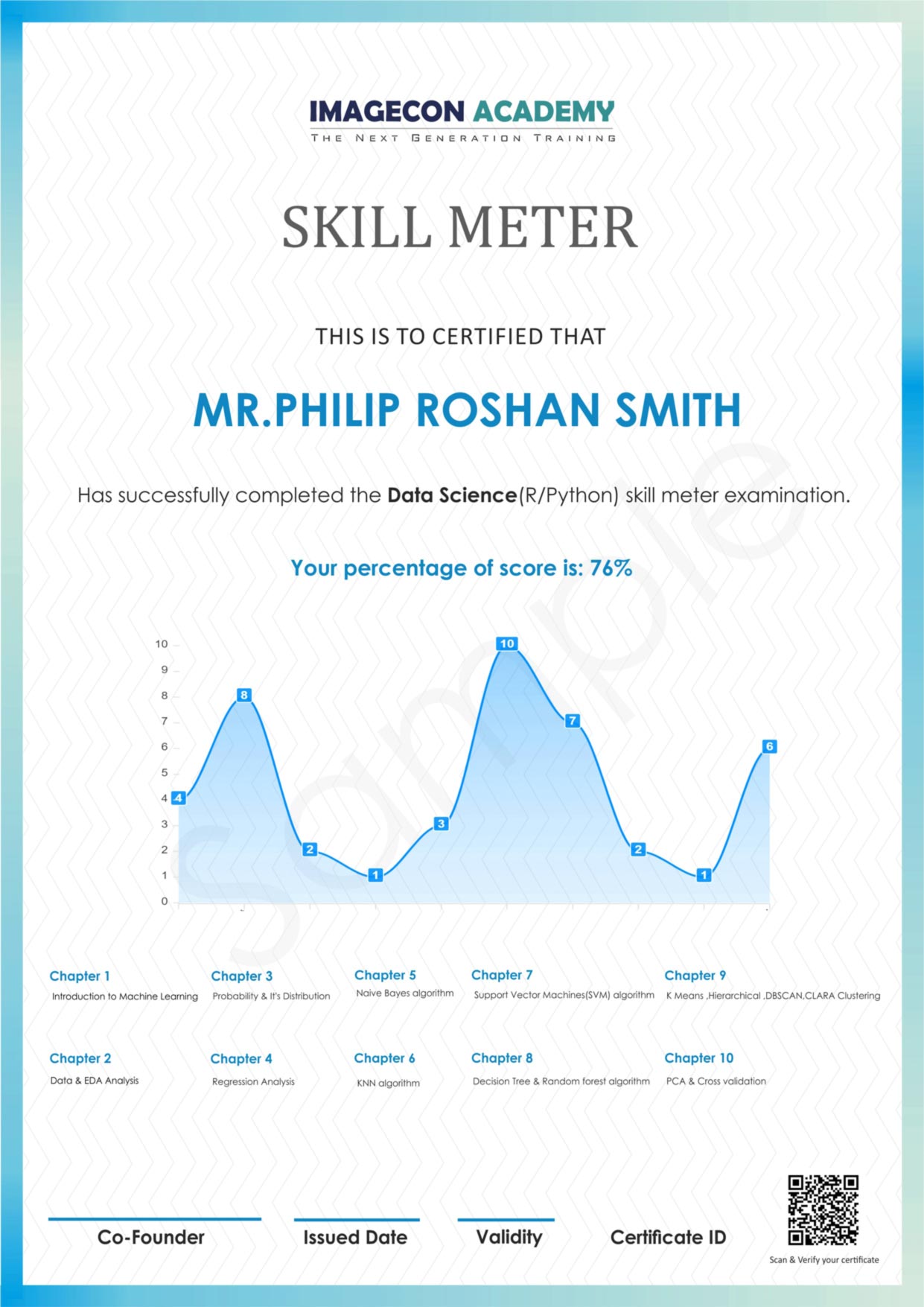 Certificate is generated for every course individually
Certificate will generate only after successful completion of the course
Hiring Companies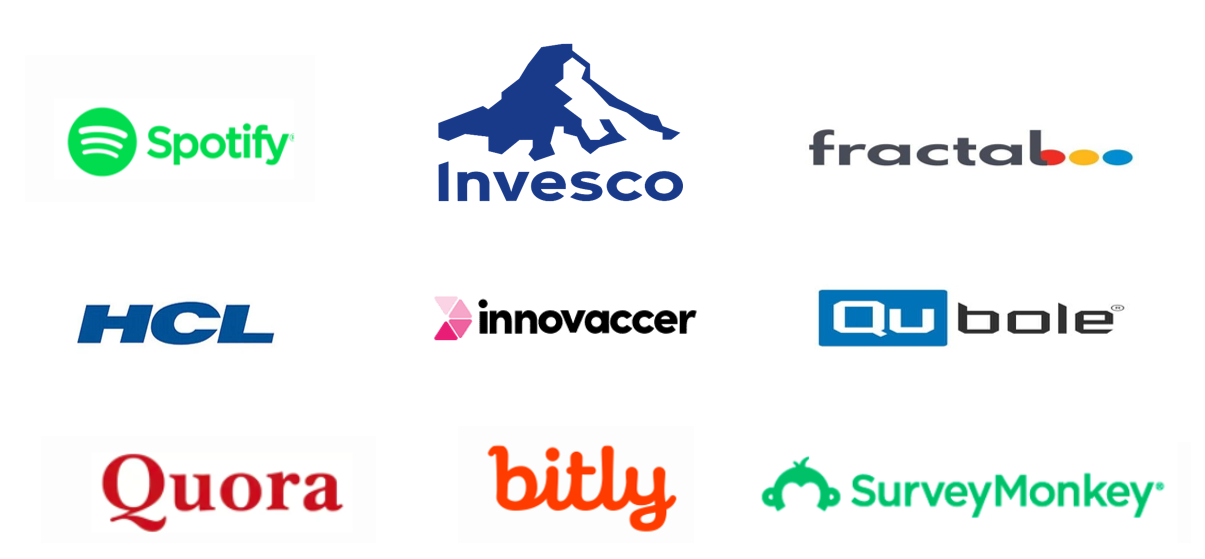 Salary Chart
Course Fee
Rs. 12,900/-
(excl. taxes)
We are Providing following Payment Options
UPI Payment
Credit Card / Debit Card
Online Banking
No Cost EMI
Students Testimonials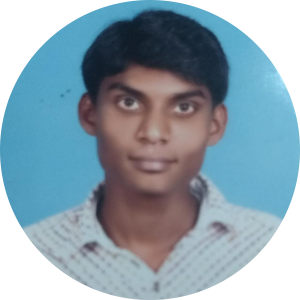 Madhavarajan
Imagecon India Pvt Ltd is one of the top best training Institution in Salem, Real time Working experience and friendly Staffs.The job assurance provides the better place for my carrier, Continuous Practice sessions in programming and assessment tests and assignments gives confidence in my domain (Data science, Python, Java), and also many mock interview sessions and various communication training gives me the confident to face the interview positively. Continuous assistance and teaching methodology provides a better place to learn and make our Carrier shine. Thanks to all the staffs and Sathish Kumar sir for their continuous support.
Manikandan
I'm Manikandan, I chose datascience (python, R and Java) in imagecon salem. The trainer is really good and they explain with many real-time examples. The institution has very good in infrastructure and also good for studying. For placement they giving communication training and technical training and many mock interviews with HR. I will surely recommend this institute if u want to improve your personal skills and knowledge and I thank Sathish Kumar sir and all staffs for giving support.
Renuga Devi
Hi, I am Renuga Devi M, I started learning IMAGECON for Datascience and Python course. my friend suggested me to join in this institution. At first i hesitated that how the training would be. But then when the classes started, the instructor was friendly to approach and the classes were very good and understandable, they are well talented trainers. I really thank Team IMAGECON and the Founder Mr. Sathish sir. Even in this pandemic situation they provid lectures and completed the course in due time without any dissatisfactions. The team works very well to provide a good career for the students. They do care for each and every student studying under them. Most importantly IMAGECON also provides placement and training. The placement training was just stupendous. Definitely I do suggest my friends to join IMAGECON India pvt. Happy Learning everyone!!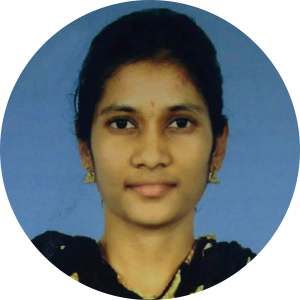 Srividya
Python possess major role in advanced technology. I am glad to attend the training in imagecon india. Our training starts from the basic so it is easy to follow up the program from the basic. Class is also understandable by the way of teaching. Our training session made with comfortable timing so that I can attend without any lagging.
Ms.Reshmi
Bangalore
Ms.JayaChitra
Salem
Mr.Sachin
Bihar
Ms.Ambika
Thirupur
Frequently Asked Questions
Duo Training is a new methodology to offer both online and classroom training for the students. Highly recommended by company experts during pandemic period.
Yes, you will be provided with 100% placement assistance after you complete the course.
It is open to everyone who wants to learn new stuffs every day, students are most welcome to apply.
Students enrolling for Duo Training will get an opportunity to learn through online as well as offline.
Yes, Students will be provided with a course completion and skill meter certificate with unique ID.
You are allowed to choose special courses,domain expert,diploma for Duo training.
Definitely yes, you will be guided with career enhancement programs after you enroll yourself for Duo training.
You will never miss any lecture at IMAGECON INDIA! View the recorded session of the class available in your account.
The duration of each course will differ according to the course chosen. The duration will be given right below the course on the web page.
You can visit our office located at Salem (or) use online support. Your access to the Support Team is for lifetime. The team will help you in resolving queries, during and after the course.